By Nicole Benner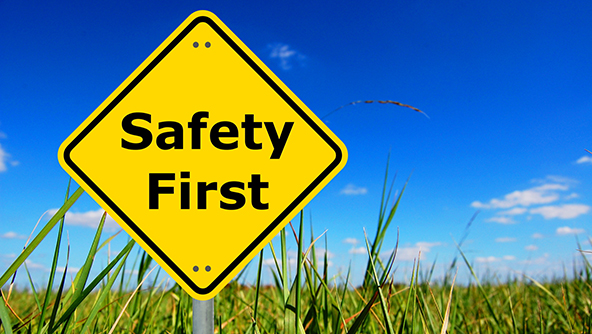 Did you know that June is National Safety Month? Since child safety is our #1 priority here at Big Brothers Big Sisters of the Eastern Shore, we thought this is a great time to talk about it. National Safety Month focuses on unintentional deaths and injuries—things that can happen in the blink of an eye. Here are the top 7 and some tips on how to prevent them:
Poisoning: The main cause of poisoning is from medication overdoses. Be sure to properly dispose of any unused prescriptions (many counties have drop off points) and keep all medicines out of the reach of young children. Many even recommend locking up opioids and other commonly abused prescriptions if there are any teenagers or young adults in the home. Be sure that all chemical cleaning products are also stored out of reach of young children.
Motor Vehicle Crashes: Distracted driving causes major problems on the road, especially in our new drivers. Be sure to talk to your child/Little about the dangers of texting while driving and limit the number of friends your child can have in the car until you feel comfortable. And keep in mind: just because your child has their license, doesn't mean they can't still use valuable experience time with mom and dad.
Falls: This is the leading cause of preventable death in the elderly but can also cause serious injuries in our Littles as well. Be aware of all potential hazards in your home and keep an eye out when you are on activities.
Choking and Suffocating: Choking on food is the major culprit here. Check out this resource for how to prevent and rescue during incidents: https://www.nsc.org/learn/safety-knowledge/Pages/safety-at-home-choking.aspx
Drowning: Whether in the pools or in natural bodies of waters, we always want to practice safety while our Littles are swimming, boating, fishing, etc. Be sure to know how well your Little/child can swim and take necessary precautions. And don't forget that we require life jackets for all of our Littles if they are on a boat.
Fires and Burns: Remember to check those smoke alarm batteries every month!
Natural and Environmental Accidents: We hear about these on the news all the time. Be sure to have emergency plans in place with your family. Know your resources and be prepared!
The information above was taken from the National Safety Council website. They also have information regarding many other safety related concerns including: extreme heat or cold, playgrounds, bicycling, skateboarding, holiday safety, car seats and many more! Be sure to check that information out at: https://www.nsc.org/learn/safety-knowledge/Pages/safety-at-home.aspx.