Happy New Year! Did you make your resolutions? Are you sticking to them so far? How about we add one more to your list? Or this may be a way to carry out one of your resolutions! MENTORING!!! Become a mentor and help change the world.
This January marks the 17th Annual National Mentoring Month and Big Brothers Big Sisters of the Eastern Shore, Inc. wants YOU to celebrate with us. If you are already a mentor, thank you and encourage your friends to get in on the fun! If you aren't join us!
The goal of Big Brothers Big Sisters of the Eastern Shore, this National Mentoring month, is to raise awareness of mentoring, recruit individuals to mentor and help the community recognize the positive impact mentoring can make in our community.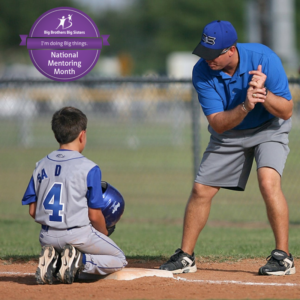 Important Dates During National Mentoring Month
January 11, 2018-Big Brothers Big Sisters of the Eastern Shore Business After Hours with Salisbury's Chamber of Commerce
An opportunity to Celebration National Mentoring Month
January 15, 2018– Dr. Martin Luther King, Jr. Day of Service
A day to share in the inspirational words of Dr. MLK, Jr. and elevate the spirit of service through volunteerism.
January 17, 2018- International Mentoring Day
A day of international conversations on social media where photos, video, and powerful mentoring stories are shared.
January 18, 2018-Mentoring 101 Training
Here you can learn more about being a mentor, apply to become a "Big", or get information on mentoring and positive youth development. If you are a parent, coach, teacher or anyone who would like a refresher on how to improve communication with adolescents, please join us. You request more information or register by emailing jspencer@shorebiglittle.org or calling 443-235-3946.
January 25, 2018 – #ThankYourMentor Day
This day concludes the #ThankYourMentor campaign! Anyone with real life mentoring experiences can thank those who helped them on their path to adulthood and beyond.
This year we want NMM to make a BIG impact on social media, so we encourage you to hashtag, retweet(@esbigs), repost(@BBBSES), and regram(@esbigs)! OR you can share your stories about how mentoring has impacted your life, share photos and videos of #mentoringIRL (mentoring in real life). Let's do whatever it takes to let the world know National Mentoring Month is a BIG deal!  Happy National Mentoring Month!!!