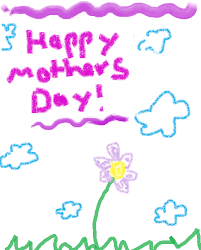 When I was growing up, my mom worked two jobs, sometimes three. I never understood the challenge of finding a balance between work and life until I became a mother myself. Now I know my mom is a hero. She raised two children, worked multiple jobs and still found a way to fill our home with love. My mom, brother and I were a team and we faced the world and the struggles involved together. We might not have always had the mortgage paid on time, and sometimes, we went a few days without power. Nonetheless, my childhood was happy. I never knew how much my mom fought to keep our house a home.
Mother's day is fast approaching and reminds me what a lucky little girl I was.  Mothers today do more than they ever did. Whether they work from home or work multiple jobs, she always has our best interests at heart. That is why it is important to celebrate her with a special day!
In an effort to celebrate my mom and mothers everywhere, I scoured the internet and found some creative, inexpensive ways to celebrate Mom on her big day!
Parents.com found 10 fun ways to spend Mother's Day with Mom without spending a lot!  Here are my top three favorites:
Find the humor – create a family comic strip together
Go on safari – A bug safari
Schedule time for hugs – Make it silly and schedule a 1:30 PM couch dash
Gear Junkie suggests we keep Mother's Day creative! Moms love it when we use our own two hands to create something special.
Take her to an Alpaca Farm – Alpaca Road is located in Denton and loves visitors! Learn more at alpacaroad.com
Sweat equity – Mow the lawn, clean the house, do the laundry…so many options
Cook a meal – Make something yummy…I always made my mom cereal. Not the best meal ever, but she loved it!
What are your favorite ways to celebrate your Mom? Are you a Mom who has special memories?