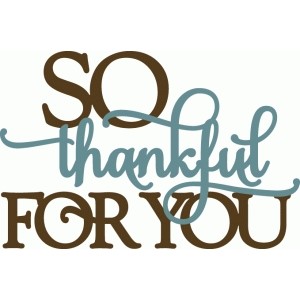 Big Brothers Big Sisters of the Eastern Shore is so thankful for you this Thanksgiving!
This Thanksgiving, we are not just thankful for the abundance of turkey, stuffing and pumpkin pie we will consume. We are also thankful for our families, supporters, donors, volunteers, staff and board who make our mission of providing mentoring and enrichment to children in our community possible. Whether you are contributing financially or signing up to become a volunteer … you are making a difference- so we thank and celebrate you! 
While you prepare your thanksgiving feasts, we wanted to share our conversations with some members on staff who wanted to thank you personally…  
BBBSES Families – The families that support mentoring relationships play a significant role as facilitator between Bigs and Littles.  Thank you parents for allowing us to help your children!
"We are grateful to our families and for their commitment to being a partners of our agency. We are thankful that they entrust their children to our program and see the positive impact the program has on their children's lives!" – Jonathan Spencer, Program Assistant
BBBSES Donors – By donating to BBBSES, you're making an investment in a child's future. We're so thankful for all of the generous donors and partners who help us Power Big Futures!
"We are thankful for the incredible generosity of our donors. It is their commitment that has enabled us to continue mentoring and enrichment programs to enhance the lives of so many Eastern Shore youth."  – Gail Foltz, BBBSES Board President
BBBSES Bigs – Mentors are the thread of our organization.  Without the caring motivation of our volunteer mentors, fulfilling the mission of improving the lives of youth facing adversity would not be possible. Thanks to all past and current Bigs!
"I am so grateful for our Big Brothers and Big Sisters because they truly love making positive changes in the lives of our Littles. They dedicate their free time to spend with their Littles and often introduce them to new activities normally only dreamt about. We appreciate all the loving guidance Bigs give to our Littles. Thank you Bigs!" – Bijone Artis, Match Support Specialist
BBBSES Board of Directors -The board of directors is the governing body of a nonprofit. Individuals who sit on the board are responsible for overseeing the organization. The board of directors, as a governing body focuses on the organization's mission, strategy, and goals.  We are very thankful to the Board of Directors for their hard work.
"Big Brothers Big Sisters of the Eastern Shore is especially thankful to our Board of Directors. These volunteers spend countless hours in meetings and in their communities promoting and raising funds for quality youth mentoring and enrichment to enhance the lives of children facing adversity.  The Board of Directors is the foundation of our agency and we appreciate every single member for their contributions." –Jessica Mimms, Executive Director
BBBSES Staff & Interns – Last but certainly not least we appreciate the staff and interns here at BBBES. Many individuals work behind the scene to ensure safe and fun programming and activities.
"Thank you to the staff and interns for working hard to deliver strong, effective youth programming and mentoring to children on the Eastern Shore.  I am overwhelmed by the dedication and passion brought to the table. We are truly lucky to have a team that loves what they do." –Courtney West, BBBSES Board Vice Chair
Once again, thank you to everybody who gives to BBBSES in any way. Each of you play an integral part in our mission to help children in need in our communities.  This holiday season, we encourage you to reach out to a mentor in your life and simply tell them thank you.  We hope you have a happy and food-filled Thanksgiving!