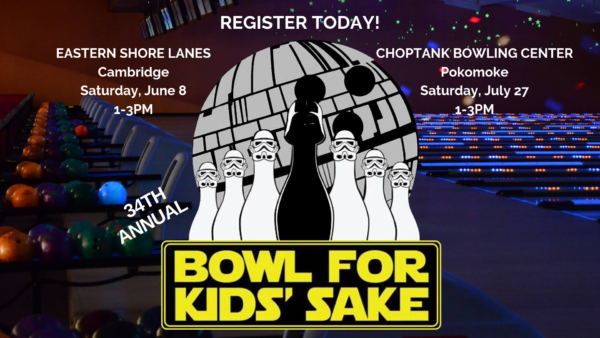 Star Wars Bowl for Kids' Sake Campaign
Not long ago, in a bowling alley not far, far away… we hosted our 34th annual Ocean City Bowl for Kids' Sake event, the first bowling event in our 2019 Star Wars BFKS campaign, and it was out of this world. Kids laughed as they rolled balls down the dinosaur ramp on lanes donated by Ocean Lanes. Pizza, donated by the local Grottos, was enjoyed, devoured and washed down with refreshing donated Pepsi products.  A great time was had by all. We cannot thank Delmarva Power, Shore United Bank, Comcast, Woodforest Bank, and PNC for their contributions to the campaign.
Our campaign to defend the potential of local children is far from over. Not long from now, in two more bowling alleys not far away, we will be hosting additional Star Wars Bowl for Kids' Sake events. The first will be in Pocomoke, on June 8th from 1-3PM, and the second will be in Cambridge from 1-3PM. Both are filling up fast, register as soon as possible to guarantee your spot.
To register, visit our website, www.shorebiglittle.org/events, or email us at bowl4kids@shorebiglittle.org. Register your family and friends to bowl for $250 per lane, or support a family in our program to bowl for $500. This price includes lane, shoe rental, pizza, and soft drinks. You can raise this total through raising pledges or donating directly.
We hope to see you Bowling for Kids' Sake soon, and may the Force be with you.